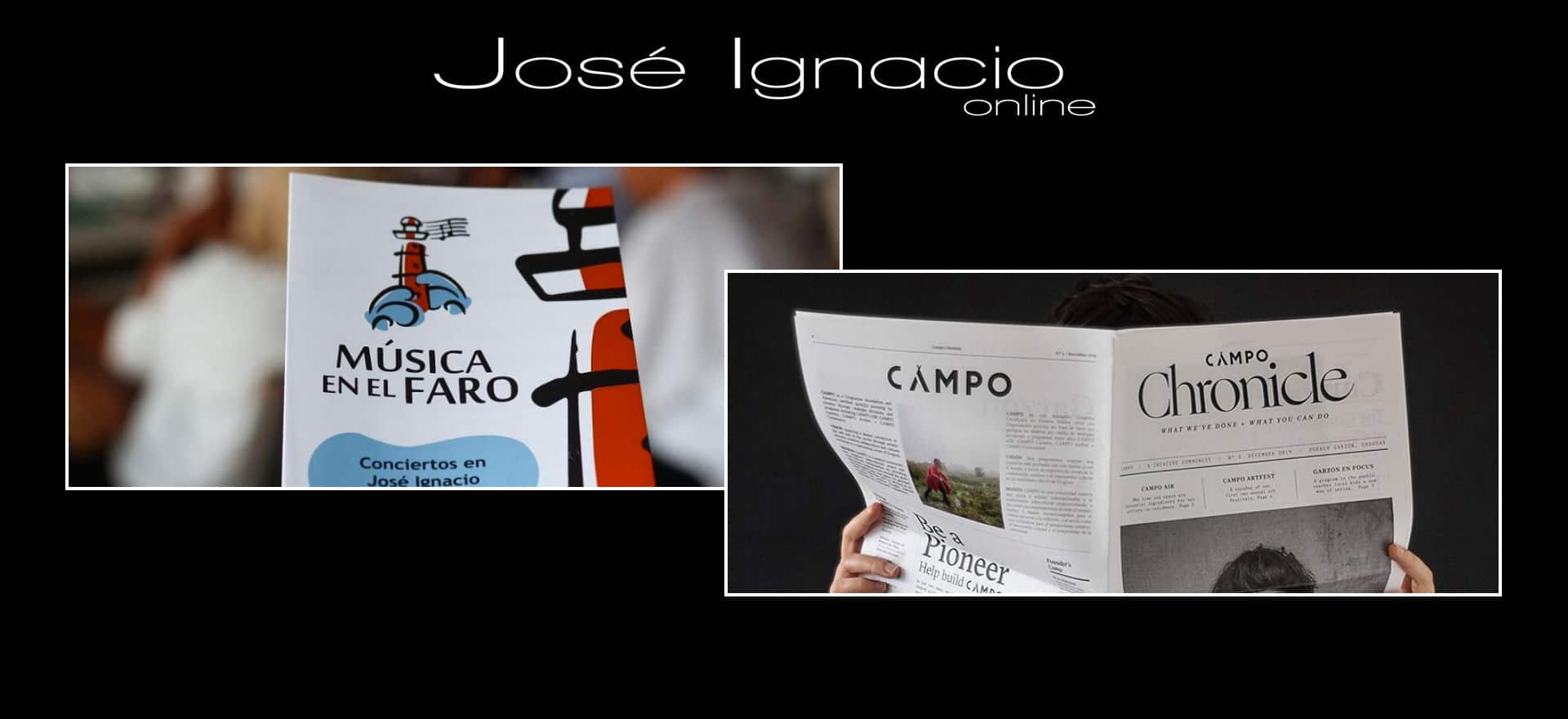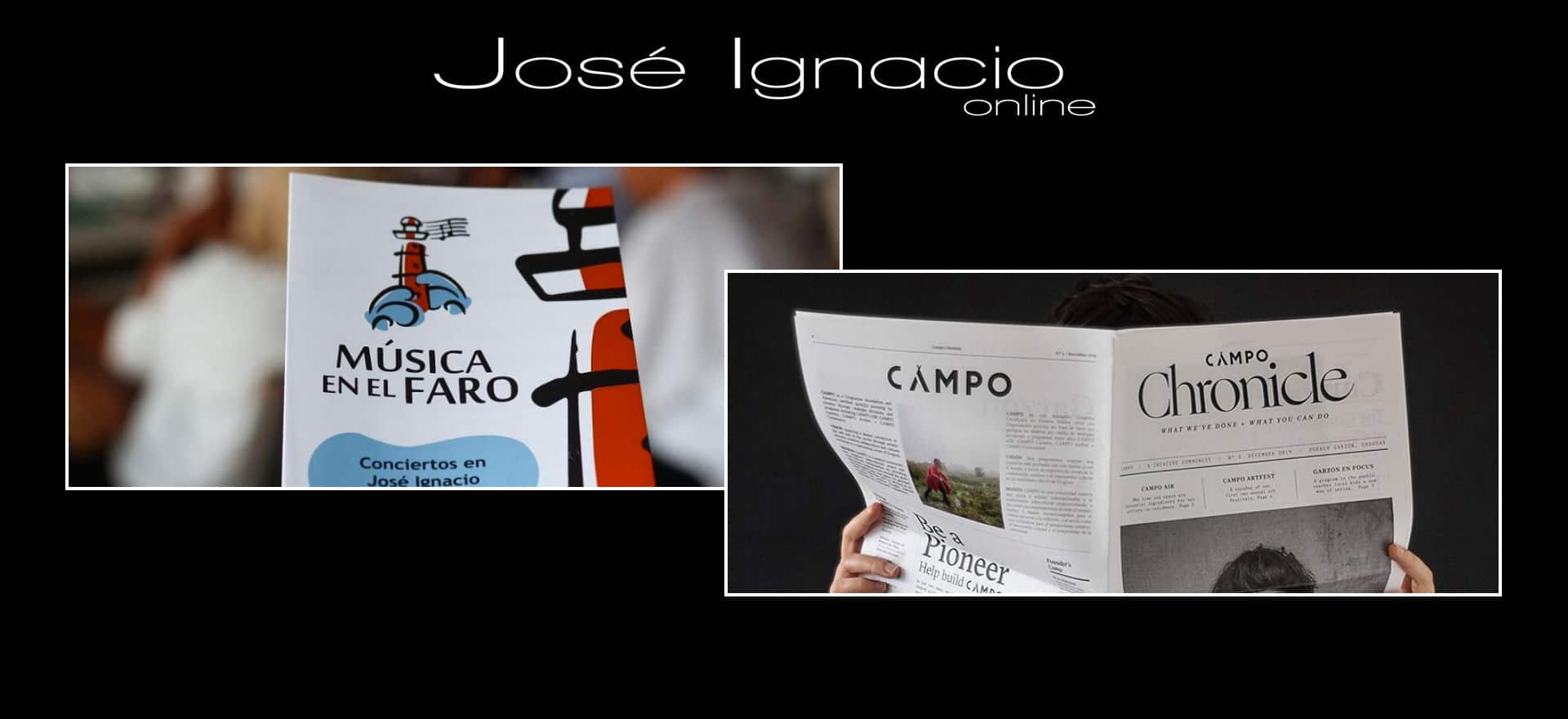 entre Campo y Mar ... Music ... Gastronomy ... Films ... Arts
José Ignacio surprises and delights visitors with unique festivals and local ferias. From December to mid-February, thousands of visitors and celebrities gather here to enjoy summer activities, festivals and exclusive events. Most of festivals like José Ignacio International Film Festival, Feria Gastronómica, Música en el Faro, Campo Art-Fest ... are held during the summer season only. Come to enjoy life and exclusive events.






Jose-Ignacio-liga-de-fomento
Jose-Ignacio-feria-gastronomica
Music ... Gastronomy ... Films ... Arts
Campo ArtFest. December 28th - 29th. A two day festival where artists from all over the world reimagine Pueblo Garzón. Come celebrate creativity, collaboration, an exploration of the senses through artistic installations, music and theater performances, a benefit dinner in the countryside, artist talks and more ... All proceeds support Campo in creating a thriving creative community. @Campo - www.artfest.campogarzon.com
Feria Gastronómica. Feria Gastronómica is a foodie event and a gastronomic experience that takes place once a year in José Ignacio. Restaurants, bars, hotels, and local wineries offer to visitors one of the best and refreshing culinary experience. Enjoy creative cuisine in an amazing and unique setting. Feria Gastronómica is definitely The Event not to miss !
The JIIFF. José Ignacio International Film Festival ... The festival proposes the screening of films with international recognition, in an environment where residents and visitors share an enriching experience. The selection of movies shown are not the typical commercial titles, but rather independent film directors and authors. What makes the JIIFF particularly special is that all movie screenings are held outdoors, cinema screens are set at the beach, and at the old train station of Pueblo Garzón. The entrance is free, and attracts people who gather to José Ignacio and Garzón to watch movies in idyllic scenery. @JIIFF
Gran Remate. La Liga de Fomento de José Ignacio convenes the « Gran Remate » to raise funds for their specific missions and purposes. The funds are applied to contribute actively to preserve environment in conjunction with NGO Faro Limpio, and for other community purposes. This year, it will be auctioned : art pieces, decoration items, clothing, hotel rooms, wines, meals at several restaurants We need your Support ! Bid for a good cause and share memorable moments with our community and friends. Los esparamos ! @Liga de Fomento José Ignacio
Música en el Faro. Música en el Faro attracts visitors from all around the coastal region, and even far beyond. What has started long ago as chamber music concerts event, and social happening in Palermo " Buenos Aires ", has now become the annual rendez-vous for talented and renowned artists to perform their music and pieces in the intimate ambiance of José Ignacio's setting. Among artists who performed and visited Música en el Faro : Elías Gurevich, Haydee Schwartz, Patricia Da Dalt, Fernando Perez, Fogwill, Dani Umpi, Ernesto Jodos, Manuel Antin, Victor Torres, Marcelo Lombardero, Salvatore Caputo, Rafael Spregelburg, Gerardo Gandini, Pablo La Porta, Marcelo Torres, Laura Cucchetti ...
Noche de la Nostalgia. August 24th is an even more popular night than New Year's eve in Uruguay. Created by Pablo Lecueder in 1978, Noche de la Nostalgia is the night of the year with Best Ambiance in terms of nightlife and parties, as it brings together young people and adults in various parties that are organized especially for that night, where the best of the music of the 70s, 80s and 90s is remembered. Among the most prominent artists that can be heard during that night, are legendary bands such as Queen, Simon and Garfunkel, The Beatles, Dire Straits, The Bee Gees ... La Noche de la Nostalgia becomes the perfect reason for adults to remember those times when they used to go out to dance. Uruguayans are said to be typically nostalgic. It may be for this reason that Noche de la Nostalgia is such a success that it was made an official celebration by the Ministry of Tourism.




Uruguay-Natural-vinos-XXI
Jose-Ignacio-online-Parners-O33